Since I started using Goodreads in 2017 the number of books I read per year has been pretty consistent. Until this year, when I jumped from about 80 to 99. Okay, call it an even 100 since I'm doing a reread now that it didn't count. In no particular order, here are those titles that stuck out when I looked back over what I read this year.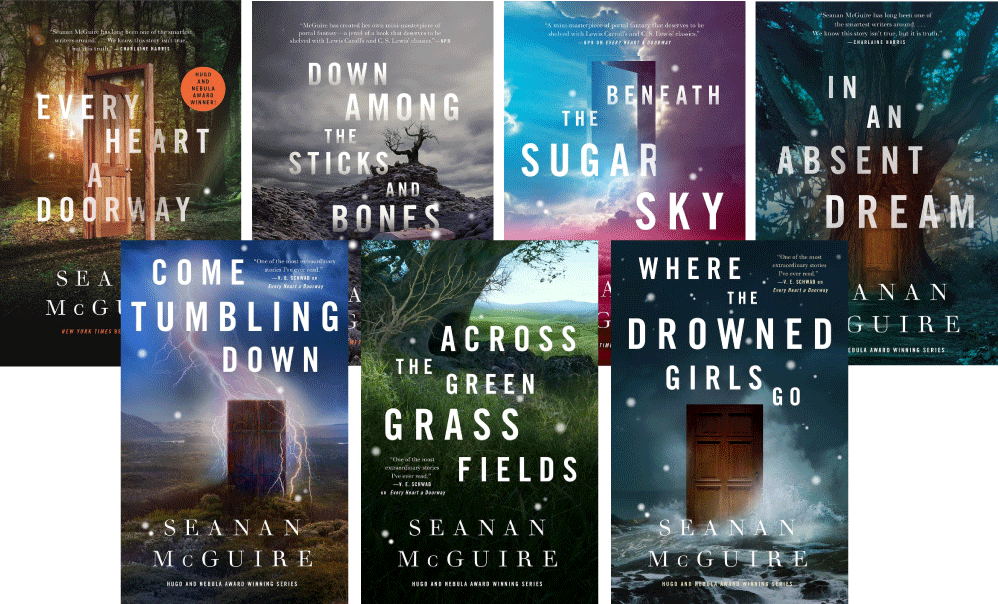 I've liked everything I've read by Seanan McGuire, under her own name and her Mira Grant pseudonym. I'm glad she's so prolific. So much to look forward to! It started with the Newsfeed series by Mira Grant, and includes Indexing and Reflections, the first October Daye book (yes, I'll be back for more), and Middlegame, whose follow up Seasonal Fears I own and look forward to. Anyway, in 2022 I read the Wayward Children series as a follow up (antidote?) to Harry Potter. So annoying when someone whose work you like (in this case JK Rowling) turns out to be not an ideal person. Seanan McGuire on the other hand is someone I enjoy following on Twitter. Wayward Children has so many stories of horrible childhoods yet manages to be not depressing but uplifting. Loved it!
Speaking of schools, the Scholomance series is another of my faves from 2022. I finally discovered Naomi Novik in 2021 and I love the variety of stuff that she's written. I don't recall why I delayed on Scholomance – maybe a surfeit of coming-of-age stories – but having read the first two I pre-ordered the third and am waiting to savor it. And wondering if I need to reread the first two before I do. I've also learned that pre-ordering is great for authors so I'm going to continue doing that. It's also great for me when the books show up; it's like my own little surprise gift to myself. (Note: I'll review all three books as a series after I read the third book.)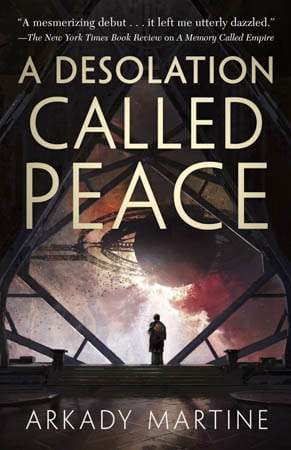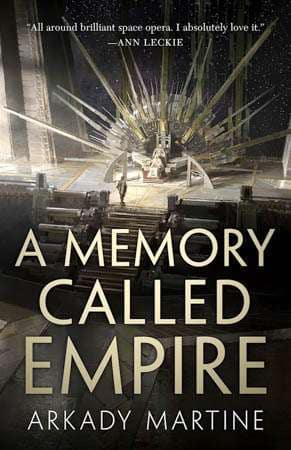 I'd seen many mentions of Teixcalaan and I liked the author's name, Arkady Martine. Sometimes it's the most trivial, meaningless things that lead me to choose a book in the moment. It's been so long I can't remember exactly what I loved about the books, just that I did and would love to hear more about the characters and the worlds they inhabit.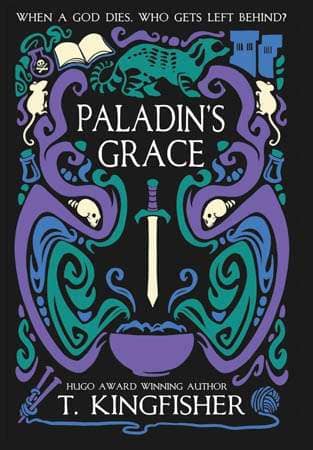 T. Kingfisher is an author I found through Twitter. And how can you not follow someone whose handle is Kingfisher & Wombat? (Two of my spouse's favorite creatures, I might add.) Paladin's Grace is my first book of hers and what a delight. What a change, to have a sort of, tentative, realistic romance between two grown adults rather than adolescents at the mercy of hormones.
I feel like I can count on John Scalzi for something light and humorous as an antidote to the dark and serious. Don't get me wrong, I like me some dark and serious, but sometimes you need a break. Redshirts is an award-winning book that gets mentioned a lot and I finally found out what all the fuss was about. I also recommended it to my spouse, who's not much of a reader and counts on me for recommendations. I now have Becky Chambers to read too for the same reason. Very different writing that fills the same need for me. I found all the Wayfarers books engrossing and uplifting. I'd heard The House on the Cerulean Sea described as a warm hug and indeed it was. It made me cry in a good way. Also a palate cleanser after too much dark.

Two books that fell into the dark and serious category are The Actual Star and Dragon Mage. The Actual Star gets compared to Cloud Atlas a lot. I can't make that comparison because I haven't read Cloud Atlas. I can say it's a book that made me uncomfortable at times – which is not a bad thing – and that I will reread. Gee, since I couldn't read it in Belize when I was there in 2020 (because it wasn't out yet) maybe I need to go back there to do my reread? I do wish the book was longer, deeper. Explored more of the worlds and characters. Speaking of uncomfortable, I almost didn't finish Dragon Mage because I felt so for the main character. I've not read about a neuro-atypical character before and it was hard. Good, but difficult.
And to round out my notable? remarkable? books of 2022, two rereads. Mary Stewart's Arthurian Saga is one of the series that got me interested in fantasy back in school. (I have the paperback edition first published in 1971 and yes, I am old.) Still one of my favorite tellings of the Merlin/Arthur story and I've read a few. And after reading a lot of paranormal/fantasy romances, or at least books with a heavy emphasis on romance, I had to reread Phedre's Trilogy (Kushiel's Dart, Kushiel's Chosen, and Kushiel's Avatar, for those like me who can't recall which Kushiel's book falls where) to see how it compared. Yeah, I still prefer the Kushiel stories. More substance. More lush. Definitely more kinky. Not a factor, just a fact. I enjoy rereading books because once I know the ending I don't feel like I need to rush headlong to find out how it ends; to focus on the plot. I can pay more attention to other elements of the story. Kind of like revisiting a location when traveling. If I've already seen the tourist highlights I feel like I can devote more time to other activities without fear of missing out.