by Jacqueline Carey
Kushiel's Dart
Born with a scarlet mote in her left eye, Phédre nó Delaunay is sold into indentured servitude as a child. When her bond is purchased by an enigmatic nobleman, she is trained in history, theology, politics, languages, the arts of pleasure, and above all, the ability to observe, remember, and analyze. Exquisite courtesan, talented spy…and unlikely heroine. But when Phédre stumbles upon a plot that threatens her homeland, Terre d'Ange, she has no choice.
Betrayed into captivity in the barbarous northland of Skaldia and accompanied only by a disdainful young warrior-priest, Phédre makes a harrowing escape to return to her people and deliver a warning of the impending invasion. And that proves only the first step in a quest that will take her to the edge of despair and beyond.
It's all the opulent decadence, grandeur, luxuriance, sacrifice, betrayal, deeply laid conspiracies and sweeping epic battles a reader's heart could desire.

Author's Description
Kushiel's Chosen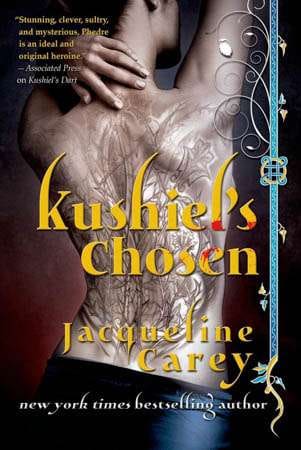 The hands of the gods weigh heavily upon Phèdre's brow, for they are not yet done with their chosen. Queen Ysandre is well loved by the people, but there are those who believe that other heads should wear the crown. And those who escaped the wrath of the mighty scheme to gain power and revenge. To preserve the realm, Phèdre will once again leave her beloved homeland to hunt a traitor.
From the sun-drenched villas of La Serenissima to the outer reaches of old Hellas, from a prison designed to drive the very gods mad to an island of immutable joy, Phèdre will meet old friends and new enemies and discover a plot against the realm masterminded by the one person she cannot turn away from.
A twisty-turny ride of a story; the first half is akin to a whodunnit, while the second half is a rollercoaster veering from the heights of Yay, what good news!" to the pits of "Yikes, what bad news!"

Author's Description
Kushiel's Avatar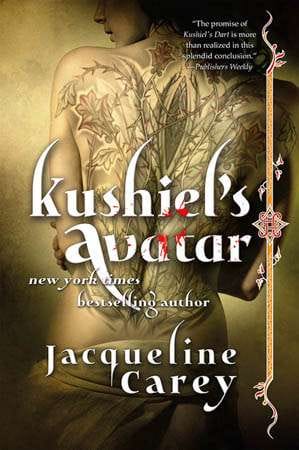 A decade of peace has passed in Terre D'Ange. Since the world's most famous courtesan saved her queen from assassination, Phèdre nó Delaunay has been enjoying a quiet life. But a prophetic dream calls upon her to serve her gods one last time, and what they ask may be too painful for even an anguissettte to bear.
When the young Imriel de la Courcel, a traitor's son who stands third in line for the crown, is kidnapped, Phèdre enters an uneasy bargain. She vows to find the boy in exchange for information that will free her beloved childhood friend from his eternal fate. When it becomes clear that Imriel's disappearance is part of a larger, far darker scheme, Phèdre knows it is her sacred duty to end it.
The culmination of Phèdre's journey takes us to some very dark and disturbing places—places I didn't want to go. It's important to know that the darkness makes the brightness to follow all the brighter.

Author's Description
My take
So what do you do when you have 353 books on your want to read list, including 162 that you own but haven't read? You go back and reread something! After having read a lot of paranormal romance lately, I wanted to go back to a fantasy romance that I recall being really really good. So here we are.
While I enjoy all her stories in the world of Kushiel, Elua, and the rest, this first trilogy is my favorite. (Then I go on to read the rest just so I don't have to leave so soon.) Phédre and Joscelin might be my favorite couple ever. This is not a traditional romance and it's definitely not a "clean" romance. (I see "clean" in a book review and I run away. Fast.) This series is kinky; Phédre is blessed — or cursed, she often can't decide herself — to feel the most pleasure through pain. Joscelin is not. Phédre is a trained courtesan. Joscelin trained as a warrior monk. It's complicated. There's a lot of sex, which I find done well and in pursuit of the story, not tossed in gratuitously. It's a sumptuous, sensual tapestry with a certain amount of grit, like going for a long, sweaty hike and coming back to a good soak and a cold beverage.
This was a reread for me; I can't recall the last time I read this series, or even if I've read it more than twice, but it sticks with me. Jacqueline Carey's website has her own description of each book so I included them here. It also has photos of people who have tattoos inspired by the books. Now that's a fan.