by Arkady Martine
A Memory Called Empire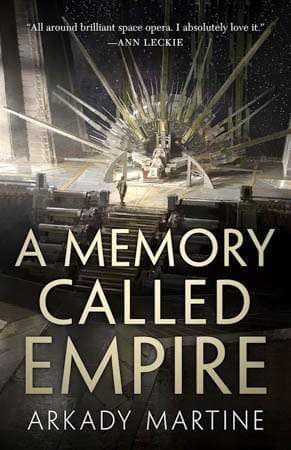 Ambassador Mahit Dzmare arrives in the center of the multi-system Teixcalaanli Empire only to discover that her predecessor, the previous ambassador from their small but fiercely independent mining Station, has died. But no one will admit that his death wasn't an accident—or that Mahit might be next to die, during a time of political instability in the highest echelons of the imperial court.
Now, Mahit must discover who is behind the murder, rescue herself, and save her Station from Teixcalaan's unceasing expansion—all while navigating an alien culture that is all too seductive, engaging in intrigues of her own, and hiding a deadly technological secret—one that might spell the end of her Station and her way of life—or rescue it from annihilation.
A Desolation Called Peace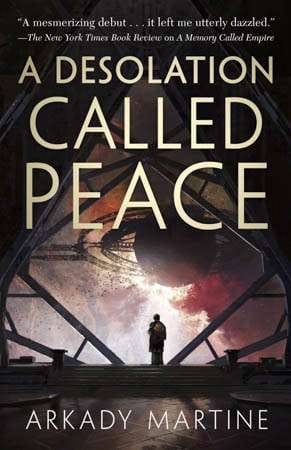 An alien armada lurks on the edges of Teixcalaanli space. No one can communicate with it, no one can destroy it, and Fleet Captain Nine Hibiscus is running out of options.
In a desperate attempt at diplomacy with the mysterious invaders, the fleet captain has sent for a diplomatic envoy. Now Mahit Dzmare and Three Seagrass—still reeling from the recent upheaval in the Empire—face the impossible task of trying to communicate with a hostile entity.
Whether they succeed or fail could change the fate of Teixcalaan forever.
My take
One of those where I got the first one as a deal then bought the second one full price as soon as I finished the first one. It was that good and I wanted to see what happened next. Interesting world that seems to have elements of Mayan empire, Chinese / Japanese. Lots of influences, which would probably be true of an empire as wide as this.
Interesting exploration of the self and gender and civilization and colonialism. Along with great characters you want to hear more about and a storyline that keeps you engrossed. Like Middle Earth I want to visit there. But mainly I want to try the restaurants because they sound really good. Another one of those series that I may have to go back and reread for all the little details. I hope there's more to come. I want to hear more from this world. Also kind of nice to see a love story that doesn't end with a happily ever after but at least there's hope for the future.