by Seanan McGuire
Seanan McGuire's Hugo and Nebula Award-winning Wayward Children series is the story of Eleanor West's School for Wayward Children, a boarding school for kids who come home from portal fantasy worlds and can't adjust to their new, ordinary lives.
Every Heart a Doorway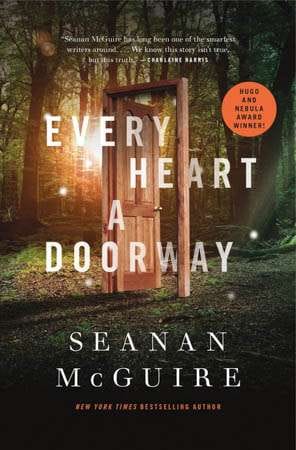 Eleanor West's Home for Wayward Children
No Solicitations
No Visitors
No Quests
Children have always disappeared under the right conditions; slipping through the shadows under a bed or at the back of a wardrobe, tumbling down rabbit holes and into old wells, and emerging somewhere… else.
But magical lands have little need for used-up miracle children.
Nancy tumbled once, but now she's back. The things she's experienced… they change a person. The children under Miss West's care understand all too well. And each of them is seeking a way back to their own fantasy world.
But Nancy's arrival marks a change at the Home. There's a darkness just around each corner, and when tragedy strikes, it's up to Nancy and her new-found schoolmates to get to the heart of the matter.
No matter the cost.
Down Among the Sticks and Bones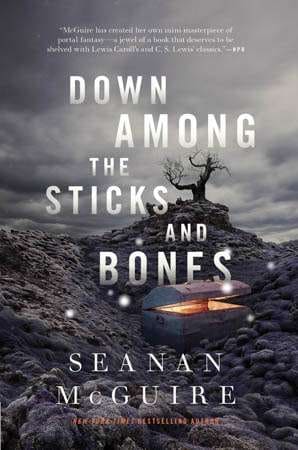 Twin sisters Jack and Jill were seventeen when they found their way home and were packed off to Eleanor West's Home for Wayward Children.
This is the story of what happened first…
Jacqueline was her mother's perfect daughter—polite and quiet, always dressed as a princess. If her mother was sometimes a little strict, it's because crafting the perfect daughter takes discipline.
Jillian was her father's perfect daughter—adventurous, thrill-seeking, and a bit of a tom-boy. He really would have preferred a son, but you work with what you've got.
They were five when they learned that grown-ups can't be trusted.
They were twelve when they walked down the impossible staircase and discovered that the pretense of love can never be enough to prepare you a life filled with magic in a land filled with mad scientists and death and choices.
Beneath the Sugar Sky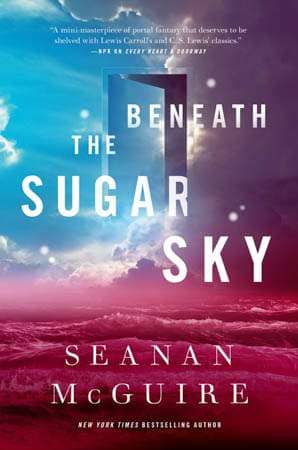 Beneath the Sugar Sky, the third book in McGuire's Wayward Children series, returns to Eleanor West's Home for Wayward Children in a standalone contemporary fantasy for fans of all ages. At this magical boarding school, children who have experienced fantasy adventures are reintroduced to the "real" world.
When Rini lands with a literal splash in the pond behind Eleanor West's Home for Wayward Children, the last thing she expects to find is that her mother, Sumi, died years before Rini was even conceived. But Rini can't let Reality get in the way of her quest – not when she has an entire world to save! (Much more common than one would suppose.) If she can't find a way to restore her mother, Rini will have more than a world to save: she will never have been born in the first place. And in a world without magic, she doesn't have long before Reality notices her existence and washes her away. Good thing the student body is well-acquainted with quests…
A tale of friendship, baking, and derring-do. Warning: May contain nuts.
In an Absent Dream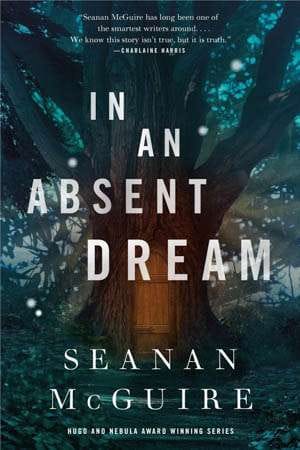 This fourth entry and prequel tells the story of Lundy, a very serious young girl who would rather study and dream than become a respectable housewife and live up to the expectations of the world around her. As well she should. When she finds a doorway to a world founded on logic and reason, riddles and lies, she thinks she's found her paradise. Alas, everything costs at the goblin market, and when her time there is drawing to a close, she makes the kind of bargain that never plays out well.
Come Tumbling Down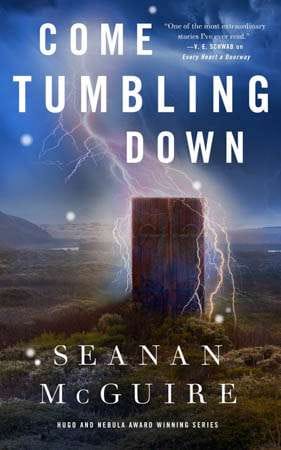 When Jack left Eleanor West's School for Wayward Children she was carrying the body of her deliciously deranged sister—whom she had recently murdered in a fit of righteous justice—back to their home on the Moors.
But death in their adopted world isn't always as permanent as it is here, and when Jack is herself carried back into the school, it becomes clear that something has happened to her. Something terrible. Something of which only the maddest of scientists could conceive. Something only her friends are equipped to help her overcome.
Eleanor West's "No Quests" rule is about to be broken.
Again.
Across the Green Grass Fields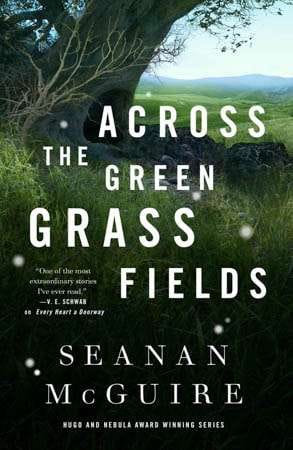 A young girl discovers a portal to a land filled with centaurs and unicorns in Seanan McGuire's Across the Green Grass Fields, a standalone tale in the Hugo and Nebula Award-wining Wayward Children series.
"Welcome to the Hooflands. We're happy to have you, even if you being here means something's coming."
Regan loves, and is loved, though her school-friend situation has become complicated, of late.
When she suddenly finds herself thrust through a doorway that asks her to "Be Sure" before swallowing her whole, Regan must learn to live in a world filled with centaurs, kelpies, and other magical equines―a world that expects its human visitors to step up and be heroes.
But after embracing her time with the herd, Regan discovers that not all forms of heroism are equal, and not all quests are as they seem…
Where the Drowned Girls Go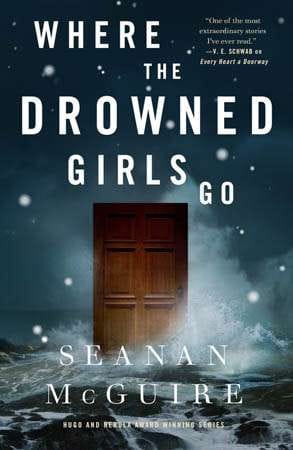 Welcome to the Whitethorn Institute. The first step is always admitting you need help, and you've already taken that step by requesting a transfer into our company.
There is another school for children who fall through doors and fall back out again.
It isn't as friendly as Eleanor West's Home for Wayward Children.
And it isn't as safe.
When Eleanor West decided to open her school, her sanctuary, her Home for Wayward Children, she knew from the beginning that there would be children she couldn't save; when Cora decides she needs a different direction, a different fate, a different prophecy, Miss West reluctantly agrees to transfer her to the other school, where things are run very differently by Whitethorn, the Headmaster.
She will soon discover that not all doors are welcoming…
My take
I had just finished rereading the Harry Potter books for the second time? The third time? I can't remember. I remember I've seen the movie so much that now the plot of the movies seems more like the main plot than the plot of the books but whatever.
So I decided to follow those up with another series about a school for children who are… different. And it's a very different series. Darker, more strange. Reminds me how awful childhood and adolescence can be. And how many kids probably want to escape through a door into another world completely where they can feel more at home. How often did I want to do that? It was particularly awful reading about Cora who was fat shamed her whole life and Regan who was intersex and I can't imagine how awful that must have been. And the twins with their awful parents.
The books are relatively short. I'm not sure if they qualify as novels. (Where does a novella end and a novel start?) It was a pleasant change to read a series of shorter works that are interrelated. I can see myself rereading these books someday now that I know the plots and can focus on more of the details. They were each sad and dark in some way yet uplifting and affirming, not saddening. Gotta read more Seanan McGuire too.