by Naomi Novik
A Deadly Education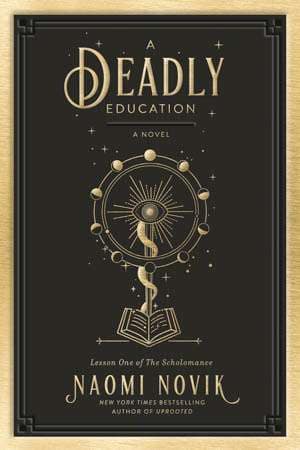 Lesson One of the Scholomance: Learning has never been this deadly.
A Deadly Education is set at Scholomance, a school for the magically gifted where failure means certain death (for real) — until one girl, El, begins to unlock its many secrets.
There are no teachers, no holidays, and no friendships, save strategic ones. Survival is more important than any letter grade, for the school won't allow its students to leave until they graduate… or die! The rules are deceptively simple: Don't walk the halls alone. And beware of the monsters who lurk everywhere.
El is uniquely prepared for the school's dangers. She may be without allies, but she possesses a dark power strong enough to level mountains and wipe out millions. It would be easy enough for El to defeat the monsters that prowl the school. The problem? Her powerful dark magic might also kill all the other students.
The Last Graduate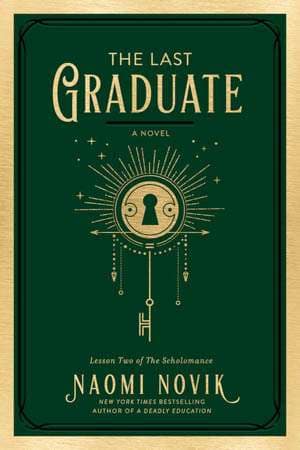 The specter of graduation looms large as Naomi Novik's trilogy continues in the sequel to A Deadly Education.
In Wisdom, Shelter. That's the official motto of the Scholomance. I suppose you could even argue that it's true—only the wisdom is hard to come by, so the shelter's rather scant.
Our beloved school does its best to devour all its students—but now that I've reached my senior year and have actually won myself a handful of allies, it's suddenly developed a very particular craving for me. And even if I somehow make it through the endless waves of maleficaria that it keeps throwing at me in between grueling homework assignments, I haven't any idea how my allies and I are going to make it through the graduation hall alive.
Unless, of course, I finally accept my foretold destiny of dark sorcery and destruction. That would certainly let me sail straight out of here. The course of wisdom, surely.
But I'm not giving in—not to the mals, not to fate, and especially not to the Scholomance. I'm going to get myself and my friends out of this hideous place for good—even if it's the last thing I do.
The Golden Enclaves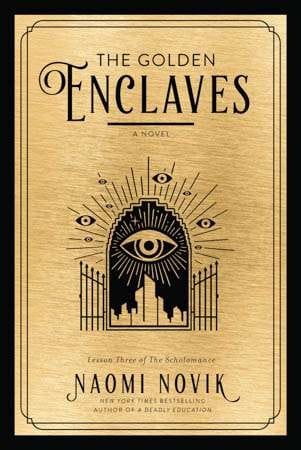 Saving the world is a test no school of magic can prepare you for in the triumphant conclusion to the New York Times bestselling trilogy that began with A Deadly Education and The Last Graduate.
The one thing you never talk about while you're in the Scholomance is what you'll do when you get out. Not even the richest enclaver would tempt fate that way. But it's all we dream about: the hideously slim chance we'll survive to make it out the gates and improbably find ourselves with a life ahead of us, a life outside the Scholomance halls.
And now the impossible dream has come true. I'm out, we're all out—and I didn't even have to turn into a monstrous dark witch to make it happen. So much for my great-grandmother's prophecy of doom and destruction. I didn't kill enclavers, I saved them. Me and Orion and our allies. Our graduation plan worked to perfection: We saved everyone and made the world safe for all wizards and brought peace and harmony to all the enclaves everywhere.
Ha, only joking! Actually, it's gone all wrong. Someone else has picked up the project of destroying enclaves in my stead, and probably everyone we saved is about to get killed in the brewing enclave war. And the first thing I've got to do now, having miraculously gotten out of the Scholomance, is turn straight around and find a way back in.
My Take
The good thing about this series: It's complete, so we're not left hanging on a literal cliff after the second book. The bad thing about this series: It's complete, so there's no more to read here!
I read the first two books in early 2022. The last novel came out in September 2022 and while I'd pre-ordered it — it's so fun to pre-order books, it's like a surprise present when they show up — I waited until I was in the right frame of mind to savor it. That happened in early 2023, and I reread the first two books also. I was worried the third book might somehow ruin things. I shouldn't have. It added to an already great story and knitted things together.
Now I see that there might be a film adaptation, so I can worry about that ruining the story!