by Becky Chambers
The Long Way to a Small, Angry Planet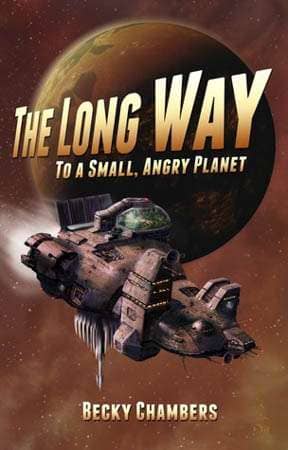 Follow a motley crew on an exciting journey through space-and one adventurous young explorer who discovers the meaning of family in the far reaches of the universe-in this light-hearted debut space opera from a rising sci-fi star.
Rosemary Harper doesn't expect much when she joins the crew of the aging Wayfarer. While the patched-up ship has seen better days, it offers her a bed, a chance to explore the far-off corners of the galaxy, and most importantly, some distance from her past. An introspective young woman who learned early to keep to herself, she's never met anyone remotely like the ship's diverse crew, including Sissix, the exotic reptilian pilot, chatty engineers Kizzy and Jenks who keep the ship running, and Ashby, their noble captain.
Life aboard the Wayfarer is chaotic and crazy—exactly what Rosemary wants. It's also about to get extremely dangerous when the crew is offered the job of a lifetime. Tunneling wormholes through space to a distant planet is definitely lucrative and will keep them comfortable for years. But risking her life wasn't part of the plan. In the far reaches of deep space, the tiny Wayfarer crew will confront a host of unexpected mishaps and thrilling adventures that force them to depend on each other. To survive, Rosemary's got to learn how to rely on this assortment of oddballs—an experience that teaches her about love and trust, and that having a family isn't necessarily the worst thing in the universe.
A Closed and Common Orbit
Lovelace was once merely a ship's artificial intelligence. When she wakes up in an new body, following a total system shut-down and reboot, she has no memory of what came before. As Lovelace learns to negotiate the universe and discover who she is, she makes friends with Pepper, an excitable engineer, who's determined to help her learn and grow.
Together, Pepper and Lovey will discover that no matter how vast space is, two people can fill it together.
The Long Way to a Small, Angry Planet introduced readers to the incredible world of Rosemary Harper, a young woman with a restless soul and secrets to keep. When she joined the crew of the Wayfarer, an intergalactic ship, she got more than she bargained for – and learned to live with, and love, her rag-tag collection of crewmates.
A Closed and Common Orbit is the stand-alone sequel to Becky Chambers' beloved debut novel The Long Way to a Small, Angry Planet and is perfect for fans of Firefly, Joss Whedon, Mass Effect and Star Wars.
Record of a Spaceborn Few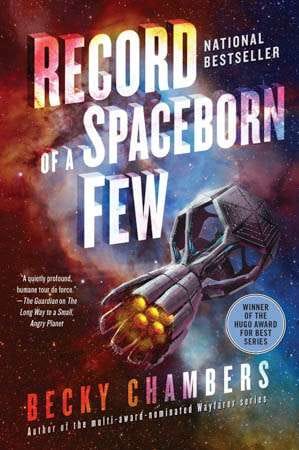 Centuries after the last humans left Earth, the Exodus Fleet is a living relic, a place many are from but few outsiders have seen. Humanity has finally been accepted into the galactic community, but while this has opened doors for many, those who have not yet left for alien cities fear that their carefully cultivated way of life is under threat.
Tessa chose to stay home when her brother Ashby left for the stars, but has to question that decision when her position in the Fleet is threatened.
Kip, a reluctant young apprentice, itches for change but doesn't know where to find it.
Sawyer, a lost and lonely newcomer, is just looking for a place to belong.
When a disaster rocks this already fragile community, those Exodans who still call the Fleet their home can no longer avoid the inescapable question:
What is the purpose of a ship that has reached its destination?
The Galaxy, and the Ground Within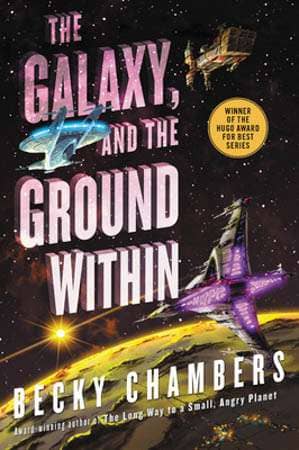 With no water, no air, and no native life, the planet Gora is unremarkable. The only thing it has going for it is a chance proximity to more popular worlds, making it a decent stopover for ships traveling between the wormholes that keep the Galactic Commons connected. If deep space is a highway, Gora is just your average truck stop.
At the Five-Hop One-Stop, long-haul spacers can stretch their legs (if they have legs, that is), and get fuel, transit permits, and assorted supplies. The Five-Hop is run by an enterprising alien and her sometimes helpful child, who work hard to provide a little piece of home to everyone passing through.
When a freak technological failure halts all traffic to and from Gora, three strangers—all different species with different aims—are thrown together at the Five-Hop. Grounded, with nothing to do but wait, the trio—an exiled artist with an appointment to keep, a cargo runner at a personal crossroads, and a mysterious individual doing her best to help those on the fringes—are compelled to confront where they've been, where they might go, and what they are, or could be, to each other.
My take
I read The Long Way to a Small, Angry Planet last year and had picked up the other three books in the series since but hadn't gotten around to reading them. After the sterility of Do Androids Dream of Electric Sheep I needed something futuristic and something with some heart. I knew I'd find both here. While Wayfarers is a series and there are tie-ins between the books, each is a standalone read. I read them in order but don't feel like you need to. Read them in order. I highly recommend reading them!