by Jacqueline Carey
Kushiel's Scion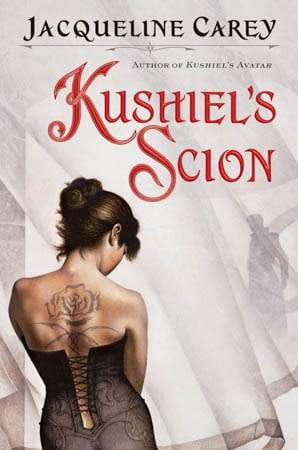 Imriel de la Courcel's birth parents are history's most reviled traitors, but his adoptive parents, the Comtesse Phedre and the warrior-priest Joscelin, are Terre d'Ange's greatest champions.
Stolen, tortured and enslaved as a young boy, Imriel is now a Prince of the Blood; third in line for the throne in a land that revels in art, beauty and desire. It is a court steeped in deeply laid conspiracies—and there are many who would see the young prince dead. Some despise him out of hatred for his mother, Melisande, who nearly destroyed the entire realm in her quest for power. Others because they fear he has inherited his mother's irresistible allure—and her dangerous gifts.
As he comes of age, plagued by unwanted desires, Imriel shares their fears. When a simple act of friendship traps Imriel in a besieged city where the infamous Melisande is worshiped as a goddess and where a dead man leads an army, the Prince must face his greatest test: to find his true self.
Coming of age has never been so fraught.

Author's Description
Kushiel's Justice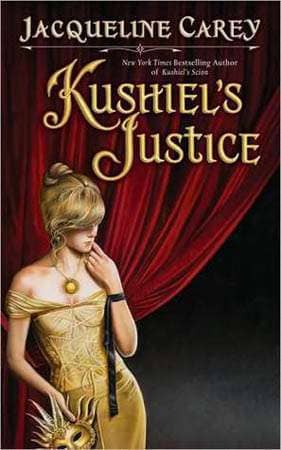 My blood beat hard in my veins and hammered in my ears, like the sound of bronze wings clashing. And I understand for the first time what it meant that Kushiel, the One God's punisher, had loved his charges too well…
Imriel de la Courcel's blood parents are history's most reviled traitors, while his adoptive parents, Phèdre and Joscelin, are Terre d'Ange's greatest champions. Stolen, tortured, and enslaved as a young boy, Imriel is now a Prince of the Blood, third in line for the throne in a land that revels in beauty, art, and desire.
After a year abroad to study at university, Imriel returns from his adventures a little older and somewhat wiser. But perhaps not wise enough. What was once a mere spark of interest between himself and his cousin Sidonie now ignites into a white-hot blaze. But from commoner to peer, the whole realm would recoil from any alliance between Sidonie, heir to the throne, and Imriel, who bears the stigma of his mother's of his mother's misdeeds and betrayals. Praying that their passion will peak and fade, Imriel and Sidonie embark on an intense, secret affair.
Blessed Elua founded Terre d'Ange and bestowed one simple precept to guide his people: Love as thou wilt. When duty calls, Imriel honors his role as a member of the royal family by leaving to marry a lovely, if merely sweet, Alban princess. By choosing duty over love, Imriel and Sidonie may have unwittingly trespassed against Elua's law. But when dark powers in Alba, who fear an invasion by Terre d'Ange, seek to use the lovers' passion to bind Imriel, the gods themselves take notice.
Before the end, Kushiel's justice will be felt in heaven and on earth.
Nothing else I've ever written has captured the all-consuming passion of young love like this before. It's also one of the most meditative and philosophically quizzical books I've ever written. Interesting.

Author's Description
Kushiel's Mercy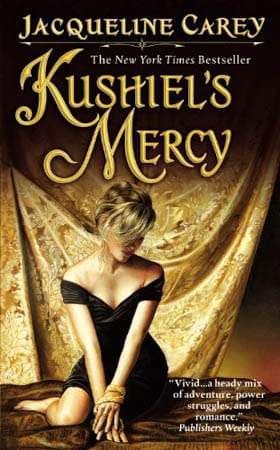 From Jacqueline Carey, New York Times bestselling author of Kushiel's Scion and Kushiel's Justice, comes the final adventure in the Imriel Trilogy.
Having paid dearly for ignoring Elua's edict to love as thou wilt, Imriel and Sidonie have finally come forward to publicly confess their love for each other — only to watch the news ignite turmoil throughout the land. Those who are old enough cannot forget the misdeeds of Imriel's mother, Melisande, whose self-serving lies plunged their country into war.
In order to quell the uprising, Queen Ysandre hands down a decree: she will not divide the lovers, but neither will she acknowledge them. And if they decide to marry, Sidonie will be disinherited. That is, unless Imriel can find his mother and bring her back to Terre D'Ange to be executed for treason . . .
Without giving too much away, this plot doubles down on the classic amnesia trope. It raises the stakes in a manner that makes for a very tricky narrative highwire act with not one, but two major characters stripped of key memories.

Author's Description
My Take
Imriel would have been the kind of brooding bad boy I would have fallen for when I was younger. He's annoying but at least he comes to realize he's annoying and that he needs to work on that. I think I liked it better this time around. It's good to see Melisande somewhat redeemed too. The star-crossed lovers tale is an old one, but with a twist. Or two. Or more. It's well told. I wasn't disappointed this time around, and wondered why I was the first time.