by Rysa Walker
CHRONOS historians travel to the past to observe history as it happens.
But Saul Rand isn't content with simply observing. His plan: reshape history by creating a new religion and then stop anyone by any means necessary who doesn't fall into line. In The CHRONOS Files, seventeen-year-old Kate travels through time to retrieve CHRONOS keys before they fall into the hands of Saul and his Cyrists, all while trying to tread through the past without erasing the memories of those she loves or her entire existence.
Timebound
When Kate Pierce-Keller's grandmother gives her a strange blue medallion and speaks of time travel, sixteen-year-old Kate assumes the old woman is delusional. But it all becomes horrifyingly real when a murder in the past destroys the foundation of Kate's present-day life. Suddenly, that medallion is the only thing protecting Kate from blinking out of existence.
Kate learns that the 1893 killing is part of something much more sinister, and Kate's genetic ability to time-travel makes her the only one who can stop him. Risking everything, she travels to the Chicago World's Fair to try to prevent the killing and the chain of events that follows.
Changing the timeline comes with a personal cost, however—if Kate succeeds, the boy she loves will have no memory of her existence. And regardless of her motives, does she have the right to manipulate the fate of the entire world?
Time's Edge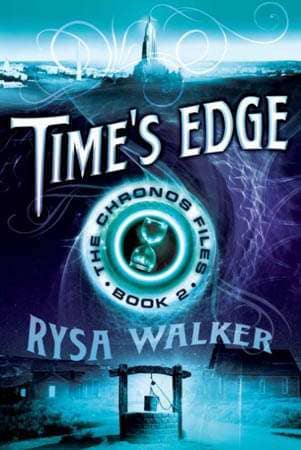 To stop her sadistic grandfather, Saul, and his band of time travelers from rewriting history, Kate must race to retrieve the CHRONOS keys before they fall into the Cyrists' hands. If she jumps back in time and pulls the wrong key–one that might tip off the Cyrists to her strategy–her whole plan could come crashing down, jeopardizing the future of millions of innocent people. Kate's only ally is Kiernan, who also carries the time-traveling gene. But their growing bond threatens everything Kate is trying to rebuild with Trey, her boyfriend who can't remember the relationship she can't forget.
As evidence of Saul's twisted mind builds, Kate's missions become more complex, blurring the line between good and evil. Which of the people Saul plans to sacrifice in the past can she and Kiernan save without risking their ultimate goal–or their own lives?
Time's Divide
The Cyrists are swiftly moving into position to begin the Culling, and Kate's options are dwindling. With each jump to the past or the future, Kate may trigger a new timeline shift. Worse, the loyalties of those around her—including the allegiances of Kiernan and the Fifth Column, the shadowy group working with Kate—are increasingly unclear.
Kate will risk everything, including her life, to prevent the future her grandfather and the Cyrists have planned. But, when time runs out, it may take an even bigger sacrifice to protect the people she loves.
My take
Most time travel books I've read focus on going way back in time and staying there. This one was different in its emphasis on going back short periods to have "do overs" (like, wait, if I go back two minutes I can pick up a weapon and he won't surprise me) and in the ability to interact with your past or future self. Not without consequences. An enjoyable read with a strong female character, although she seemed remarkably confident and mature for a 17 year old. Then again, I don't know many 17 year olds and haven't since I was one.