by Neal Stephenson
Quicksilver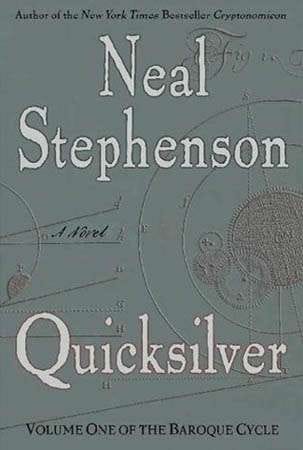 Quicksilver is the story of Daniel Waterhouse, fearless thinker and conflicted Puritan, pursuing knowledge in the company of the greatest minds of Baroque-era Europe, in a chaotic world where reason wars with the bloody ambitions of the mighty, and where catastrophe, natural or otherwise, can alter the political landscape overnight.
It is a chronicle of the breathtaking exploits of "Half-Cocked Jack" Shaftoe — London street urchin turned swashbuckling adventurer and legendary King of the Vagabonds — risking life and limb for fortune and love while slowly maddening from the pox.
And it is the tale of Eliza, rescued by Jack from a Turkish harem to become spy, confidante, and pawn of royals in order to reinvent Europe through the newborn power of finance.
A gloriously rich, entertaining, and endlessly inventive novel that brings a remarkable age and its momentous events to vivid life, Quicksilver is an extraordinary achievement from one of the most original and important literary talents of our time.
And it's just the beginning…
The Confusion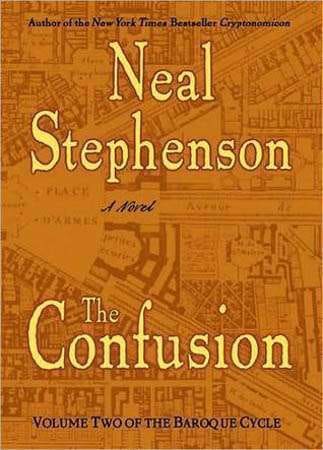 In the year 1689, a cabal of Barbary galley slaves — including one Jack Shaftoe, aka King of the Vagabonds, aka Half-Cocked Jack — devises a daring plan to win freedom and fortune. A great adventure ensues — a perilous race for an enormous prize of silver … nay, gold … nay, legendary gold. In Europe, the exquisite and resourceful Eliza, Countess de la Zeur, is stripped of her immense personal fortune by France's most dashing privateer. Penniless and at risk from those who desire either her or her head (or both), she is caught up in a web of international intrigue, even as she desperately seeks the return of her most precious possession. Meanwhile, Newton and Leibniz continue to propound their grand theories as their infamous rivalry intensifies, stubborn alchemy does battle with the natural sciences, dastardly plots are set in motion … and Daniel Waterhouse seeks passage to the Massachusetts colony in hopes of escaping the madness into which his world has descended. This P.S. edition features an extra 16 pages of insights into the book, including author interviews, recommended reading, and more.
The System of the World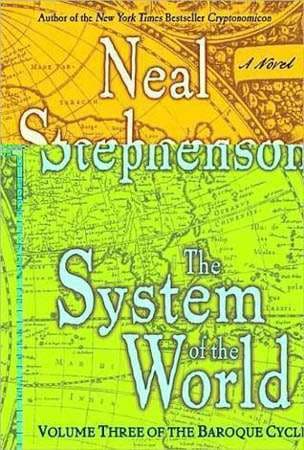 'Tis done. The world is a most confused and unsteady place — especially London, center of finance, innovation, and conspiracy — in the year 1714, when Daniel Waterhouse makes his less-than-triumphant return to England's shores. Aging Puritan and Natural Philosopher, confidant of the high and mighty and contemporary of the most brilliant minds of the age, he has braved the merciless sea and an assault by the infamous pirate Blackbeard to help mend the rift between two adversarial geniuses at a princess's behest. But while much has changed outwardly, the duplicity and danger that once drove Daniel to the American Colonies is still coin of the British realm. No sooner has Daniel set foot on his homeland when he is embroiled in a dark conflict that has been raging in the shadows for decades. It is a secret war between the brilliant, enigmatic Master of the Mint and closet alchemist Isaac Newton and his archnemesis, the insidious counterfeiter Jack the Coiner, a.k.a. Jack Shaftoe, King of the Vagabonds. Hostilities are suddenly moving to a new and more volatile level, as Half-Cocked Jack plots a daring assault on the Tower itself, aiming for nothing less than the total corruption of Britain's newborn monetary system. Unbeknownst to all, it is love that set the Coiner on his traitorous course; the desperate need to protect the woman of his heart — the remarkable Eliza, Duchess of Arcachon-Qwghlm — from those who would destroy her should he fail. Meanwhile, Daniel Waterhouse and his Clubb of unlikely cronies comb city and country for clues to the identity of the blackguard who is attempting to blow up Natural Philosophers with Infernal Devices — as political factions jockey for position while awaiting the impending death of the ailing queen; as the "holy grail" of alchemy, the key to life eternal, tantalizes and continues to elude Isaac Newton, yet is closer than he ever imagined; as the greatest technological innovation in history slowly takes shape in Waterhouse's manufactory. Everything that was will be changed forever … The System of the World is the concluding volume in Neal Stephenson's Baroque Cycle, begun with Quicksilver and continued in The Confusion.
My Take
No, there are no gaps in this blog. It actually took me about two months to read these three books. In my defense, they are three very long books. At no time did it feel like a slog. Nor do I recall being kept up late wanting to know what happened next. It was a nice, leisurely journey that I could pick up and put down at will. And that I laughed out loud to. And read passages aloud to my spouse. (Those things don't happen often.)
I enjoyed the second book in the series the most, since it focused primarily on Jack and Eliza and I initially liked those characters better. Plus Eliza is the only woman who gets any airtime. I slowly grew attached to Daniel Waterhouse too, and it did not bother me when he took over much of the third book.
Oh, and there's a ton of math and science here, and I hate math. I will confess to skimming over some of those sections. I may actually try another Neal Stephenson book. (I tried to read Cryptonomicon once and just couldn't get into it.)