by K. F. Breene
There are a total of eleven books in Demon Days, Vampire Nights.
Fire and Ice Trilogy
This trilogy introduces us to Reagan, a fiercely independent and (literal) kickass heroine whose particular type of magic isn't revealed until late in the first book. The series is set in modern day New Orleans.
Born in Fire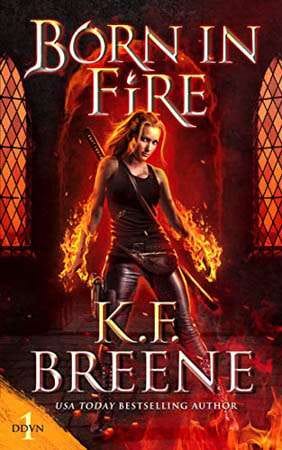 Heart pounding and laugh out loud funny, USA Today Bestselling author K.F. Breene will take you on a magical joy ride you won't soon forget.
Supernatural Bounty Hunter isn't the sort of thing you see on LinkedIn. But with a rare type of magic like mine, I don't have many options.
So dangerous or not, the job is mine. And it was going fine, until an old as sin vampire stole my mark, and with it, my pay day.
Knowing I'm poor and desperate, he has offered me a job. I'll have to work by his side to help solve a top secret case.
Everyone knows not to trust vampires. Especially a hot elder vampire. But without any other jobs coming up, I'm stuck. As I uncover a web of lies and treachery, revealing an enemy I didn't know existed, the truth of my identity is threatened. I might make it out alive, only to end up in a gilded cage.
Raised in Fire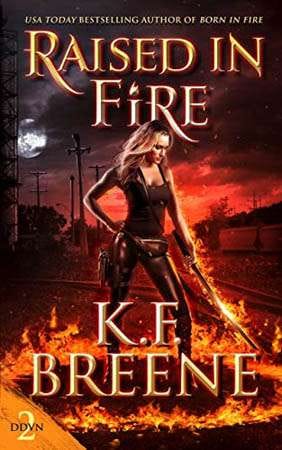 It is a common truth in my life that when it rains, it pours.
The killings that once plagued New Orleans are cropping up again in Seattle. The local office is stumped. I'm called out to lend a fresh set of eyes, and my unique magical touch.
It's only when I get there that I realize the Seattle office isn't stumped at all.
They're being silenced by the Mages' Guild, a corrupt magical institution that doesn't want word to get out of what is plaguing the city. Worse, news of my magic might've slipped down to the underworld, hitting the ears of some extremely powerful demons.
What I thought was a routine murder investigation turns into a fight for my life. With the help of Darius, my stalker elder vampire, and my dual-mage side kicks, I somehow have to dodge the Guild in order to stop one of the most powerful demons I've ever encountered. If I don't? It'll escape back down below with proof of what I really am.
My life hangs in the balance, and this time, I can't see a way out.
Fused in Fire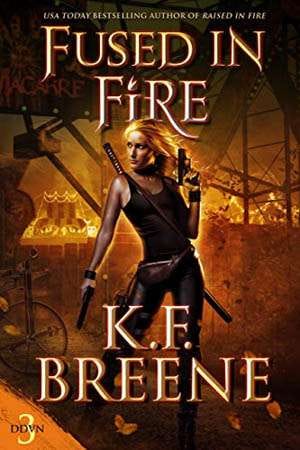 The gripping conclusion of the bestselling Fire and Ice Trilogy!
I'd thought the threat from Seattle was finished. That we showed up in time and took care of business.
I hate being wrong. It really ruins my day.
When Roger, the alpha of the North American pack, shows up at my door with the news that a demon has made it to the Underworld with knowledge of me, some hard decisions have to be made.
Do I stay above ground, with all my magical friends, and wait for the battle to come to me? Or do I seek the demon out, and pluck the threat out by the root?
I don't want my friends to die on my behalf. I could never life with myself. But if I venture into the Underworld, it'll be the most perilous journey of my life.
This time, it isn't just my life hanging in the balance, it is my eternity.
Magical Mayhem Trilogy
Penny Bristol was first introduced as a secondary character in the Fire and Ice trilogy. Now she gets to be the center of attention and we learn more about mage society. Reagan and other characters from the first trilogy carry over to this series.
Natural Witch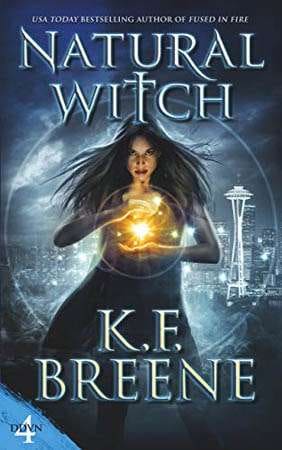 The explosive new addition to the DDVN World (Fire and Ice Series) by USA Today Bestselling author K.F. Breene!
Something has always been missing from my life. A hole that I could never seem to fill.
When I accidentally turn a coven of witches into nightmares, I find out what that something is.
Magic.
And it turns out, I have a crap load of it.
As a latent power awakens deep inside of me, I'm exposed to one of the most powerful and corrupt organizations in the magical world—the Mages' Guild.
Barely knowing a spell from a few swear words and luck, I won't be able to evade them alone.
And that's when I meet him.
The Rogue Natural. The best and most feared mage in the world.
He's dangerous, mysterious, and has a vendetta of his own. He is now the only thing between me and magical enslavement.
Natural Mage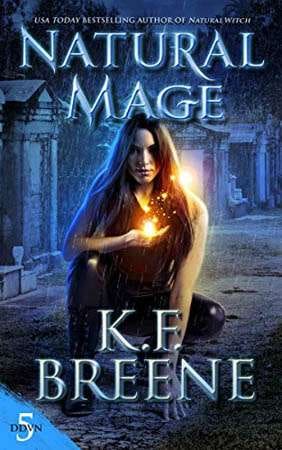 After narrowly surviving my debut into the magical world, I made a promise to myself: no more hiding in broom closets.
But with the Mages' Guild reorganizing faster than anyone thought possible, and naming me as their number one target, that promise seems a little far-fetched. Especially since my training with Callie and Dizzy, the highly experienced dual-mage pair, goes off like a cake in a cannon.
Left to find someone that can fill the role, it isn't until a formal dinner party goes horribly wrong that I find the best (and worst) solution imaginable: Reagan Somerset, the leather clad crazy woman who busted into my broom closet sanctuary in the first place.
Through an off-kilter teaching style and many punches in the face, I learn my true potential.
But with her happier busting heads and kicking in doors than staying put with a pupil in hiding, it isn't long before the world comes crashing down. The Guild has found me, and they intend to take me alive.
Natural Dual-Mage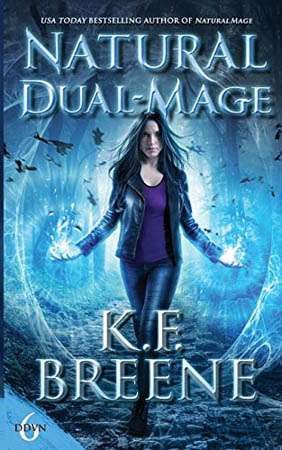 The seat-gripping conclusion to the #1 bestselling Magical Mayhem trilogy!
One thing has become perfectly clear: The Mages' Guild won't stop coming for me until I am either under their control, or dead.
So rather than wait to be cornered…I'm going to take the fight to them.
But Emery and I can't do it alone.
We have to assemble enough power in the magical world to rip the Guild off of their high horse. And to do that, we'll need the shifters as well as the vampires.
Except, shifters and vampires would rather kill each other than work together. And after a surprise run-in with a strangely powerful goblin, my world is slapped sideways.
If I can't learn the strange new power I totally-didn't-steal-because-it-wasn't-my-fault, and can't get arch nemeses to work together for the common good, the Guild will finally have their prize. Me.
This epic adventure will leave you breathless!
Warrior Fae Duology
Here we meet Charity (and yes, we find out why the weird name) and learn about shifters and fae. Again there's overlap with other characters.
Warrior Fay Trapped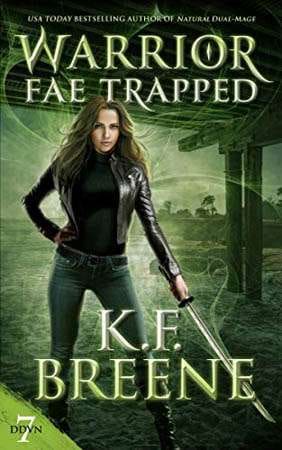 The truce between the vampires and the shifters is long over. So when the two factions stumble upon a lost fae warrior who has no idea what she is, all hell breaks loose.
Charity hasn't had it easy. Growing up in a bad part of Chicago, left by her mother at 16, she's a survivor. So when she gets a scholarship to a good college out in California, she thinks all her dreams have come true.
Instead she falls head first into a nightmare.
At a posh party she doesn't belong, she gets the shock of her life: vampires and shifters are real! Magic is real. And she is anything but a mundane poor kid just trying to make it.
Warrior runs in her blood. If only she knew how to use it.
Suddenly, she is trapped between two magical super powers – a cunning elder vampire who wishes to use her for her blood ties and maybe tie her to the bed, and a sexy alpha shifter who will protect her at all costs.
Her life of surviving never could've prepared her for this. And if she doesn't learn to harness the fae magic running through her blood, she'll be imprisoned forever.
Warrior Fay Princess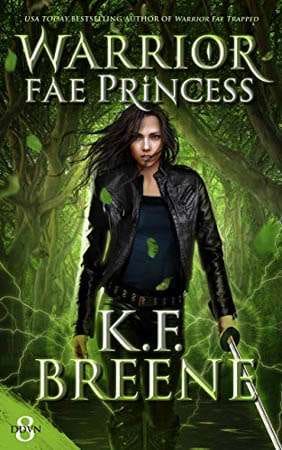 With Charity's fate on the line, Devon and his pack must face the perils of the Realm in search of the elusive warrior fae. With no real experience and against some of the most powerful creatures in existence, they are fighting a losing battle.
Thankfully, they don't have to do it alone.
Knowing what's at stake, Penny and Emery, the magical powerhouses of the mage world, will lend their aid, trying to sneak Charity in the backdoor.
If they are caught, they'll all be captured or worse. Much worse.
But to make it means Devon will be forced to make a difficult decision that will change his and Charity's life forever.
And the last three books …
The final three books in the series don't get their own subtitle. Reagan returns as the primary focus though the other characters still play key roles.
Revealed in Fire
The DDVN World story continues, largely told from Reagan's point of view, but including all major players.
Reagan's trip down to the underworld was never going to remain a mystery. And now Lucifer is actively looking for the woman and her vampire cohort that raised hell in his domaine.
When a band of demons come to the surface with a note asking after Lucifer's heir, the truth of Reagan's true lineage can no longer be hidden.
The problem is, the elves remember Lucifer's past heir, and how he nearly took down the Realm. This time, they do not intend to stand by while Lucifer finds his heir and raises her to power. This time, they'll cut the problem out at the root.
Reagan went from a nobody in NOLA, to the most wanted woman in all the worlds. It's time for her to own who and what she is. It's time for her to fight back.
Mentored in Fire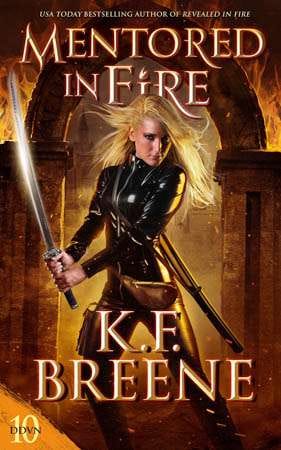 After a life of hiding and laying low so as not to end up trapped in the Underwold, that's exactly where Reagan finds herself.
It could be worse, though. She could've had a hostile father as her jailor instead of a man eager to teach her magic. She might've been trapped with someone other than the steadfast Druid.
She could've gone her whole life without riding a dragon!
When push comes to shove, maybe the Underworld isn't so bad.
Or maybe Lucifer is doing what he does best – deceiving her to get what he wants.
Reagan must walk a razor thin edge to keep her independence.
She must battle wills with the lord of the Underworld.
Battle with Fire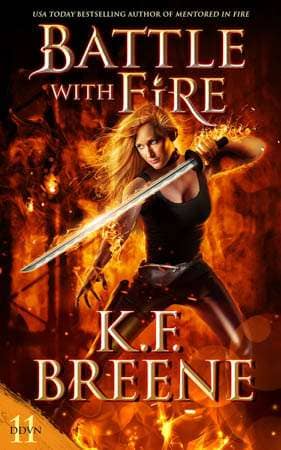 The final book in the Demon Days, Vampire Nights Series!
With Lucifer wanting revenge and the elves desperate to hold onto their power, a battle is inevitable.
The question is, which side will Reagan choose? The elves have treated her and her friends badly. Lucifer held her captive.
Will she claim revenge…or will she seek to help balance the worlds? Is that even possible? Regardless, she's not one to back away from trouble.
As the worlds heat up and fates are realized, Regan's future is anything but decided.
My take
I read the first book in the series in June 2021. Why I only read the first one in the series, I don't know. Probably got it on sale but wasn't inspired to read the rest of it at that point. I picked up the second book in the series in November 2022 when I had six months' free access to Kindle Unlimited and finished out the rest of the books. It was a mad rush to finish before my free Kindle Unlimited ran out. In fact I ended up paying for a month not so much to finish this series, but because I procrastinated too long in cancelling it.
I would likely not pay full price for this series but was happy to read it for free. I like the characters, the plots move right along, the dialog is zippy and amusing and occasionally laugh out loud funny. Penny is an unexpectedly (for me at least) likable heroine, given she's a virgin who never swears. I found the Warrior Fae duology the weakest part of the series. It wasn't as deep.